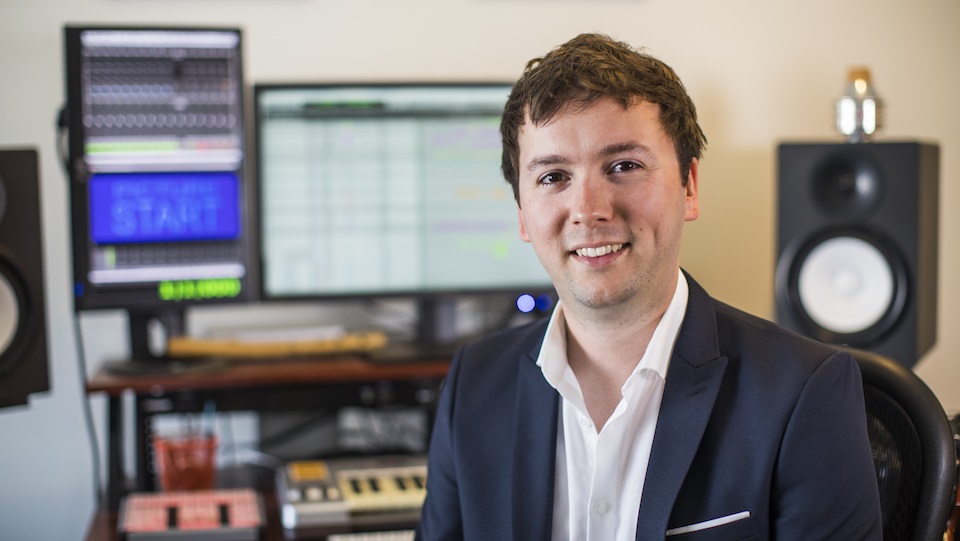 Tom Harrison is a DMus candidate focusing on Composition for Screen. His music has been featured on over 200 different television series including Saturday Night Live, WWE: Raw, The Voice and many others. His book How to Become a Film Composer was published globally by Hal Leonard in 2018.
After graduating with a BMus in Film Scoring, Summa Cum Laude (1st), from Berklee College of Music, Harrison spent 10 years working in Hollywood. He began with a series of musical assistant jobs working for composers Deborah Lurie, W. G. Snuffy Walden, Christopher Tyng and an internship with Alf Clausen on The Simpsons. He was then hired by John M. Keane as the Music Assistant on CSI: Crime Scene Investigation, the #1 series in the world at the time. He spent 3 years as Keane's protégé, working on music editorial, arranging and orchestration for the programme. The pair also worked on the music for Horns, a feature film starring Daniel Radcliffe.
Harrison's research focuses on the composition of cartoon music. As well as composing original music for cartoons, he is researching Scott Bradley's music for Tom & Jerry and Christopher Willis' music for Mickey Mouse.
Harrison's music is regularly featured on sports television by companies including NFL, NBA, MLB and NHL. This affinity for sports music lead him to start his own music library, Ringside Tracks, which currently has 15 composers on its roster. Harrison's custom entrance theme for tag team Lifeblood was played at Madison Square Garden during the ROH/NJPW G1 Supercard, the only wrestling event produced at MSG by a promotion other than WWE post-1960.
Harrison has toured China and the US as a performer, was Musical Director for American Idiot: The Musical in LA and has written songs on a Billboard #2 album. He is a member of BAFTA and a music judge for the Emmy Awards. He holds an MMus in Composition from King's College London and is Lecturer in Composition for Screen at BIMM University.
Personal website Visit website
How to Become a Film Composer Book Visit website
Faculties / departments: Research
Research
Research areas
Research supervisors
Contact
For enquiries please contact:
Tom Harrison
Doctoral Student