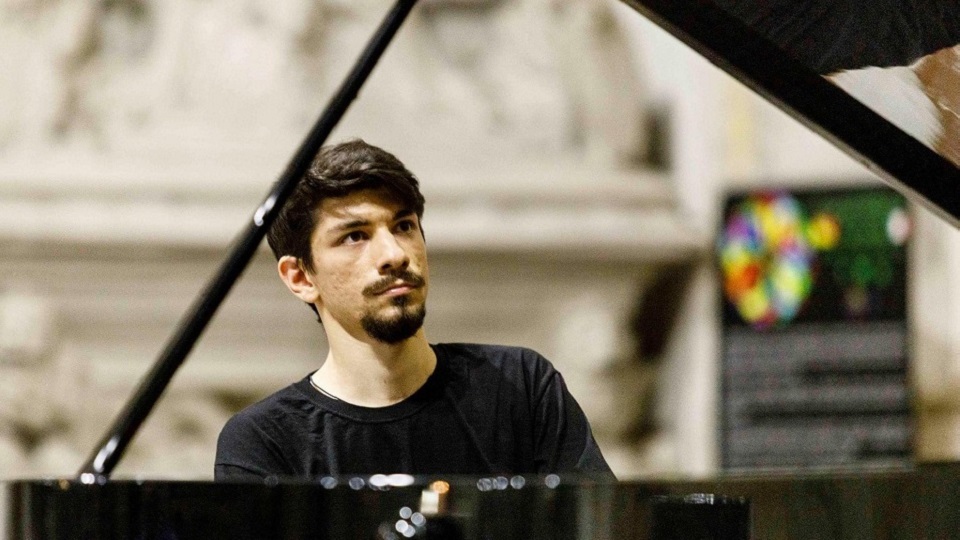 Francesco Bravi is a PhD candidate at the Royal College of Music and RCM Studentship holder. His research aims to revaluate Friedrich Gulda's contribution to the piano recital by reconsidering his performance activity beyond classical music, often dismissed as eccentric. In 2022, Francesco presented his research at the University of Surrey for the 6th Performance Studies Network International Conference.
Active concert pianist, Francesco has been awarded prizes at several international competitions, including Arcangelo Speranza (2019), Dinu Lipatti (2018), Concentus Roma (2013). He performed at the Auditorium Parco della Musica with Lang Lang as part of the event "Lang Lang – 101 pianists" in 2012. He has since then performed in concert series and international festivals, including Villa Pennisi in Musica, Istituzione Universitaria dei Concerti, I Tramonti di Tinia, Netherhall House Auditorium, Accademia Filarmonica Romana, Livorno Music Festival, Villa Borghese Piano Day.
Francesco studied with Massimo Spada, Daniel Rivera, and Gordon Fergus-Thompson. He attended masterclasses led by Stephen Kovacevich, Boris Petrushansky, Beatrice Rana, Boris Berman, John Lill, Noriko Ogawa, Alessio Bax.
His interest for the variety of piano and chamber repertoire led Francesco to explore rarely programmed works by lesser known composers. In 2020 he gave the first public performance of Blanchet's suite Turquie. In 2021 he recorded works by Wellesz for the research project Music, Migration and Mobility, and played Godowsky's Java Suite for his Masters final recital. In 2023 he played Medtner's Piano Quintet for Take Five in Rome. His interests range from contemporary repertoire, with recent performances of works by Piazzolla, Hamelin, Adams and MacMillan, to baroque, often exclusively performed at the harpsichord, such as Louis Couperin's Unmeasured Preludes.
Since he was young, he has played in a range of chamber ensembles, and he attends the Chamber Music Course at the International School of Music Avos Project in Rome.
Faculties / departments: Research
Research
Research areas
Research supervisors
Contact
For enquiries please contact:
Francesco Bravi
Doctoral Student