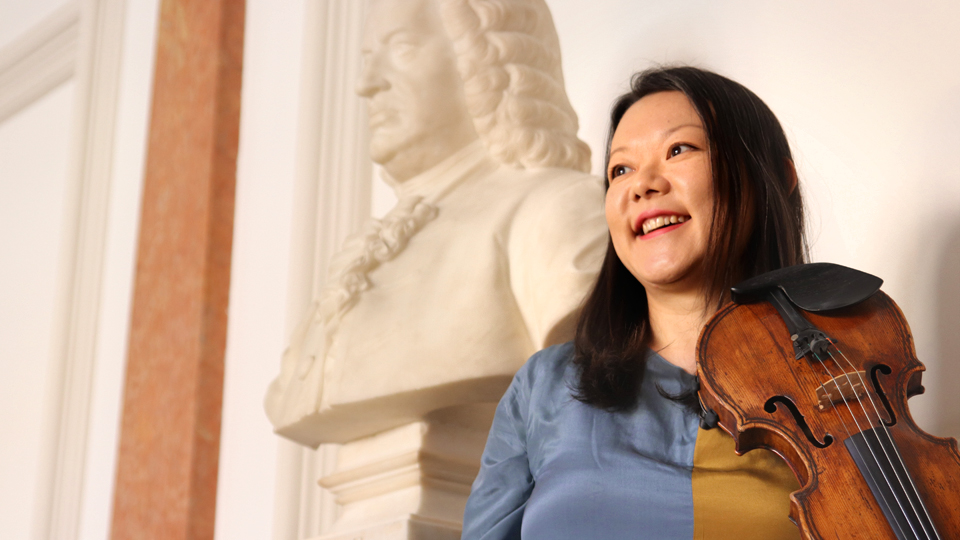 Dr. Maiko Kawabata is an award-winning musicologist and violinist educated at Cambridge University (B.A.) and the University of California, Los Angeles (Ph.D.). She joined the Royal College of Music in 2017 having previously held positions on the faculties of the University of Edinburgh, University of East Anglia, and the State University of New York, Stony Brook. Mai's main research interest is in the history of musical performance, with a focus on extremes of solo violin playing – convention-breaking styles and ideas such as virtuosity and unplayability. She is the author of Paganini, the 'Demonic' Virtuoso and a co-editor of Exploring Virtuosities: Heinrich Wilhelm Ernst, Nineteenth-Century Musical Practices and Beyond. She has also published articles on Stradivari, Paganini, Berlioz, Rimsky-Korsakov, Schoenberg, Heifetz, Gilles Apap and Patricia Kopatchinskaja. She has presented her research at the American Musicological Society, the Institute of Musical Research, and numerous international conferences.
Mai studied violin with John Crawford and the late Nona Liddell and has wide experience playing in orchestras and chamber ensembles throughout the UK, USA, and Germany. She performed Schoenberg with the late Leonard Stein (Monday Evening Concerts, Los Angeles), Schnittke with the Modern Art Sextet (Konzerthaus Berlin), and Stockhausen with Apartment House (Cut&Splice Festival, broadcast on BBC Radio 3). While dedicated to performing new music, Mai also plays symphonic repertoire, operas, and film soundtracks.
Mai is the co-organiser (with Dr. Shzr Ee Tan, Royal Holloway) of the 2019 Study Day: Cultural Imperialism and the New 'Yellow Peril' in Western Classical Music. She received a BBC Radio 3/AHRC grant to further her research into Japanese composer Kikuko Kanai (1906 - 1986). Her ethnographic study of racialised identity among professional East Asian musicians in European and British orchestras is forthcoming.
Selected publications
Hoppe C, von Goldbeck M & Kawabata M (eds.) (2018), Exploring Virtuosities: Heinrich Wilhelm Ernst, Nineteenth-Century Musical Practices and Beyond, Olms [ISBN 978-3-487-15662-0].
Kawabata M (2015), Playing the 'unplayable': Schoenberg, Heifetz, and the Violin Concerto, op. 36, Journal of Musicological Research, 34 (1), 31-50 [DOI].
Kawabata M (2014), How Gilles Apap's new cadenza illuminates Mozart, via Bakhtin, ECHO, 12.1 [LINK].
Kawabata M (2014), The aura of Stradivari's violins, Ad Parnassum 12 (23), 61-74 [LINK].
Kawabata M (2007), Virtuosity, the violin, and the devil . . .what really made Paganini "demonic"?, Current Musicology, 83 [LINK].
Kawabata M (2004), The concerto that wasn't: Paganini, Urhan and Harold in Italy, Nineteenth-Century Music Review, 1 (1), 67-114 [DOI].
Kawabata M (2004), Virtuoso codes of violin performance: power, military heroism, and gender (1789-1830), Nineteenth Century Music, 28 (2), 89-107 [DOI].
Kawabata M (2000), The narrating voice in Rimsky-Korsakov's Shekherazade, Women and Music, 4, 18-39.
Faculties / departments: Research, Academic staff
Latest Publications
Kawabata, M. (2018) Book review: 'The music of Joseph Joachim' by Katharina Uhde. Studia Musicologica, 59 (3-4). pp. 453-459. ISSN 1788-6244
Kawabata, M. (2018) What does Paganini mean to us today? 'Paganini Rockstar' Exhibition Catalogue.
Kawabata, M. (2018) In search of 'something-other-than-perfect' violin virtuosity. In: Exploring Virtuosities: Heinrich Wilhelm Ernst, Nineteenth-Century Musical Practices and Beyond. Göttingen Studies in Musicology/Göttinger Studien zur Musikwissenschaft (10). Olms Weidmann, Hildesheim, pp. 241-262. ISBN 978-3-487-15662-0 (paperback)
Kawabata, M. (2015) Playing the "unplayable": Schoenberg, Heifetz, and the Violin Concerto, Op. 36. Journal of Musicological Research, 34 (1). pp. 31-50. ISSN 0141-1896 (print) 1547-7304 (online)
Kawabata, M. (2014) The aura of Stradivari's violins. Ad Parnassum: A Journal of Eighteenth- and Nineteenth-Century Instrumental Music, 12 (23). pp. 61-74. ISSN 1722-3954 (print) 2421-6933 (online)
Kawabata, M. (2014) How Gilles Apap's new cadenza illuminates Mozart, via Bakhtin. ECHO: A Music-Centered Journal, 12 (1). ISSN 1535-1807 (online)
Kawabata, M. (2013) Paganini: the 'demonic' virtuoso. Boydell & Brewer, Martlesham, Suffolk. ISBN 9781843837565 (hardback)
Kawabata, M. (2013) Recording review: Pierre Rode (1774–1830): 12 Etudes for Violin Solo; Duos for 2 Violins, performed by Nicolas Koeckert, Rudolf Koeckert (violins). Eighteenth-Century Music, 10 (1). pp. 149-151. ISSN 1478-5706 (print) 1478-5714 (online)
Kawabata, M. (2011) What is to be made of these good-looking violinists? Male virtuosos with high cheekbones are vexing to some high-art traditionalists. Strings, 26 (5:200). p. 15. ISSN 0888-3106
Kawabata, M. (2010) Remembering an inspirational Russian violinist and pedagogue. Strings, 24 (12:183). pp. 19-20. ISSN 0888-3106
Kawabata, M. (2010) Paganini's legacy. In: Nicolò Paganini: Diabolus in Musica. Studies on Italian Music History (5). Brepols, Turnhout, pp. 353-358. ISBN 978-2-503-53533-3 (hardback)
Kawabata, M. (2007) Virtuosity, the violin, the devil…what really made Paganini "demonic"? Current Musicology, 83. pp. 85-108. ISSN 0011-3735 (print) 2640-883X (online)
Kawabata, M. (2007) Violinists 'singing': Paganini, operatic voices, and virtuosity. Ad Parnassum: A Journal of Eighteenth- and Nineteenth-Century Instrumental Music, 5 (9). pp. 7-39. ISSN 1722-3954 (print) 2421-6933 (online)
Kawabata, M. (2006) Virtuosity transfigured: in the shadow of Paganini. Journal of the American Liszt Society, 57. pp. 31-34. ISSN 0147-4413
Kawabata, M. (2004) Virtuoso codes of violin performance: power, military heroism, and gender (1789-1830). 19th-Century Music, 28 (2). pp. 89-107. ISSN 0148-2076 (print) 1533-8606 (online)
Kawabata, M. (2004) The Concerto that wasn't: Paganini, Urhan and Harold in Italy. Nineteenth-Century Music Review, 1 (1). pp. 67-114. ISSN 1479-4098 (print), 2044-8414 (online)
Kawabata, M. (2000) Schoenberg at UCLA: reminiscences from Leonard Stein [interview]. ECHO: A Music-Centered Journal, 2 (2). ISSN 1535-1807 (online)
Kawabata, M. (2000) The narrating voice in Rimsky-Korsakov's Shekherazade. Women and Music: A Journal of Gender and Culture, 4. pp. 18-39. ISSN 1090-7505 (print) 1553-0612 (online)
Contact
For enquiries please contact:
Dr Maiko Kawabata
Lecturer in Music, Doctoral Supervisor
0207 591 4753