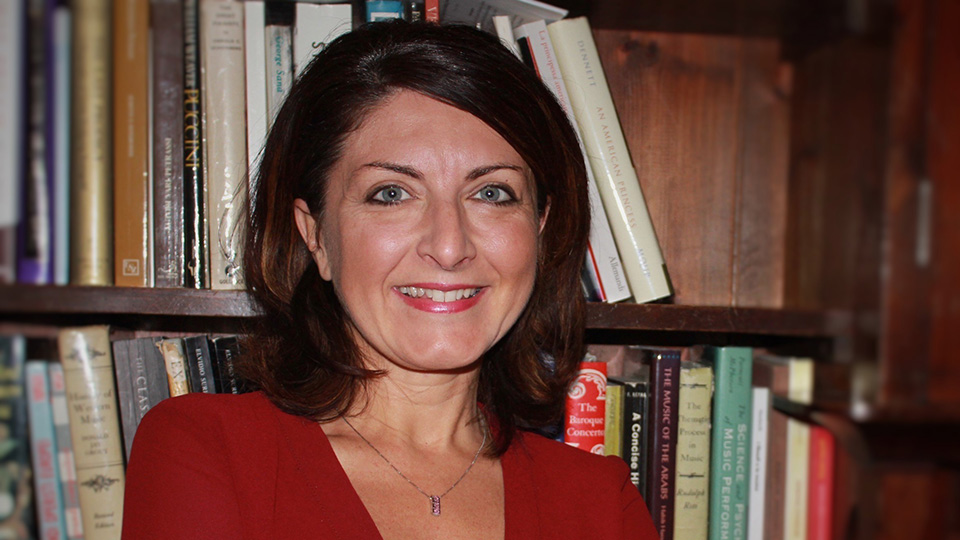 Federica Nardacci is about to complete a PhD by publication, supervised by David C.H. Wright.
Her academic education started at the University 'Alma Mater Studiorum' of Bologna, where she graduated with a dissertation on Anton Francesco Tenaglia (1612-1672), published in Il Giardino armonioso (Ibimus, 2011). She holds a Bachelor's degree in piano, a Master's degree in Chamber music (performance and practice) and a Master's in Piano Teaching.
From 2000 to 2014, Federica held the post of manager at the Istituto di Bibliografia Musicale di Roma (IBIMUS), and was curator of the Francesco Pennisi Archive (Associazione Nuova Consonanza), the Nino Porto Archive (RAI) and the Goffredo Petrassi Archive (Petrassi Institute). Her research in these archives has been published and presented at a number of international conferences. In 2018 she presented Peter Maxwell Davies' unpublished letters to Petrassi (with whom he studied in Rome) at University Church of Canterbury in a conference dedicated to the British composer.
Federica's present research focusses on the resurgence of 19th century instrumental music in Italy. Working mainly on composers' correspondence, she discovered information that helped her to redefine the biographical profile of some of the key figures of that movement. She has edited a collection of letters held at the RCM, addressed to Giuseppe Martucci (1856-1909) which she contextualized with an explanatory Introduction.
As a freelance journalist, Federica has written for music magazines such as Amadeus (Italy) and Opera (UK). Her interviews with significant musicians (including Ennio Morricone and Charles Rosen) have been published, with an introductory essay, by RAI-ERI Magazine. They were later collated in a book, Universi Sonori (Nuovetendenze Edition 2014). She has also contributed programme notes to BBC Proms and BBC SSO concerts.
Federica has been Assistant Librarian at the RCM since 2016 and Secretary of the IAML UK Documentation Committee since July 2020.
Selected publications
Nardacci F (2019) Pagine Sparse. Il carteggio di Giuseppe Martucci nei documenti d'archivio del Royal College of Music [Scattered papers. The correspondence of Giuseppe Martucci in the archival documents of the Royal College of Music], Firenze, Leo Olschki [ISBN9788822266934].
Nardacci F (2016) Musicisti della Scuola napoletana. Vicende biografiche e fortuna di Carlo Conti [Musicians of the Neapolitan School. Biography and career of Carlo Conti], Roma, Ibimus, 1-14, [ISBN 978888627342].
Nardacci F (2014) Roffredo Caetani attraverso le fonti d'Archivio [Roffredo Caetani through the Archive sources], Lucca, LIM, 25-45 [ISBN9788870967746].
Nardacci F (2014) La centralità di Alessandro Vessella nel panorama della musica romana e le sue relazioni con i Caetani [The centrality of Alessandro Vessella in the Roman music environment and his connections with Caetani family], Roma, Ibimus-Allumiere, 15-28 [ISBN9788888627281].
Nardacci F (2011) «Caro Goffredo….». Le lettere inedite di Nino Rota a Goffredo Petrassi ['Dear Goffredo….'. The unpublished letters from Nino Rota to Goffredo Petrassi], Napoli, Conservatorio San Pietro a Majella, 257-270 [ISBN 9788898528066].
Faculties / departments: Research
Research
Research areas
Research supervisors
Contact
For enquiries please contact:
Federica Nardacci
Doctoral Student